"The voice of conscience has always clearly recalled that there are truths and moral values for which one must be prepared to give up one's life." Pope John Paul II
I have a deep and abiding love of history, and a fascination with the men and women who stood up against evil. WWII resistance groups rank pretty high on that list-so few groups, after all, represent evil like the Nazis.
I also got inspired to write this after seeing
Sophie Scholl-The Final Days
, which I highly recommend.
In 1943, Sophie Scholl, along with her brother and several others, distributed leaflets harshly criticizing the actions of the Third Reich and Hitler's regime. Calling themselves the White Rose movement, this group of students drew the attention of many (including the Third Reich) with leaflets calling the German people to action against the Nazi regime.
In February, Sophie and her brother Hans were spotted by a janitor as they dropped a stack of leaflets at the University of Munich. They were arrested and taken into custody, followed shortly by Christoph Probst. Their trial was overseen by infamous judge Roland Freisler, and the three were sentenced to death on February 22nd, 1943.
The executions were carried out on the same day as the sentencing. Proud of her actions to the end, Sophie's last words before being led to the guillotine were recorded as "Such a fine, sunny day, and I have to go, but what does my death matter, if through us thousands of people are awakened and stirred to action?".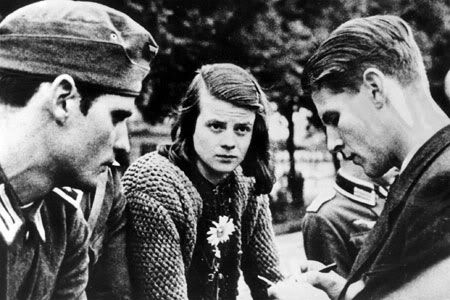 left to right: Hans Scholl (22 September 1918 – 22 February 1943), Sophie Scholl (9 May 1921 – 22 February 1943), Christoph Probst (6 November 1919 - 22 February 1943)